RPMG is focused on results and driving sustainable results for our clients. We meet with you monthly as often as needed to review your key metrics: collection rates, days in A/R, days to filling/billing, denial rates and trends, bad debt trends, and much more. We also watch for historical trends and drill down into the details as needed. If there is a problem, with our advanced reporting, prevent and detect control measures, we'll identify the issue before they become systemic problems. Then we'll work to get it fixed, keeping you informed throughout the process.
RPMG has developed a model that will allow you to achieve incremental revenue gains, a decrease in your practice overhead, and ultimately more control and visibility into your RCM performance, allowing you to focus on patient care and other important matters.
Typical RPMG client results:
Increased revenue
Decreased labor and non-labor expense
No billing staff paid vacations or benefits
Reduced claim rejections
Minimized paperwork
Unparalleled visibility into your revenue cycle performance through RPMG's Tableau based reporting suite of tools
RPMG drives sustainable performance improvement for its clients. With collections being one of the ultimate measures of revenue cycle success, the chart below demonstrates the pre & post experience that one of our clients realized once fully integrated with the RPMG billing and collections solution.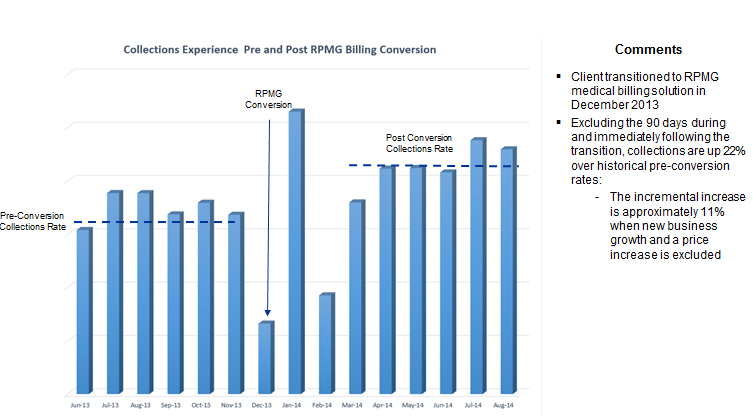 Another key RPMG differentiator in choosing RPMG is the smooth transition process. Through our tightly controlled integration process, our team will minimize your cash flow disruption and can get your practice back up and running within 90 days.